2023
The People's Summit 2023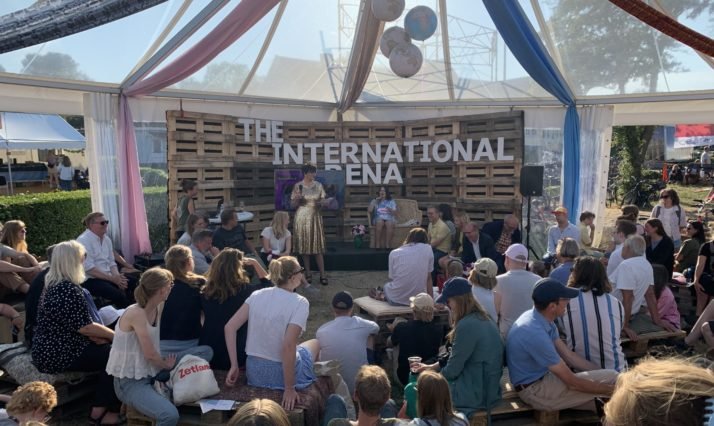 A world-class People's Summit
More perspectives, more voices, more impressions…
We look back on three days of democracy celebrations under the open sky when we discussed, turned, twisted, challenged, and quizzed our way through the role of culture in our society and the world at Folkemødet on Bornholm in July 2023.
We look back on lots of good and important conversations with Frederik Rosén, Nataliya Popovych, and Charlotte Flindt Pedersen, who, together with our regional manager Henriette Borg Reinholdt, zoomed in on culture as a weapon, resilience, and war strategy. Or when our Director Camilla Mordhorst debated the role of culture in creating a new Europe together with Head of Cabinet, Stina Soewarta, and Creative Director of the Ukrainian Institute, Tetyana Filevska.
Together with IMS – International Media Support, we focused on life in exile – as an artist and journalist. A big thank you to musician Lavon Volsky, who had to leave his native Belarus two years ago to share his story.
For the second year in a row, led by our wonderful host and judges Chantal al Arab and Mila Milica Kovalj, we challenged two teams and the audience in our "Eurovision as soft power quiz". Thanks to Anna Libak, Rasmus Tantholdt, Soren Liborius, Jon Kyst, Charlotte Flindt Pedersen, Katrine Stevnhøj, Klaus Bondam, Lars Oskan-Henriksen, Mariia Didenko and Oleksandra Bulenok for taking up the challenge.
Together with our colleagues from the Ukrainian-Danish Youth House and the New Democracy Fund, we put the Eastern Neighborhood Countries on the agenda. When we invited to a workshop and gave the young Folkemøde participants the perspective of a Ukrainian of the same age on what it is like to live in a war zone, thus making a distant reality more concrete.
Last but certainly not least, a big thank you for the cooperation to our partners in the International Arena: DIPD – Danish Institute for Parties and Democracy, IMS – International Media Support, The Danish Foreign Policy Society, and DIIS – Danish Institute for International Studies.
The People's Summit 2023