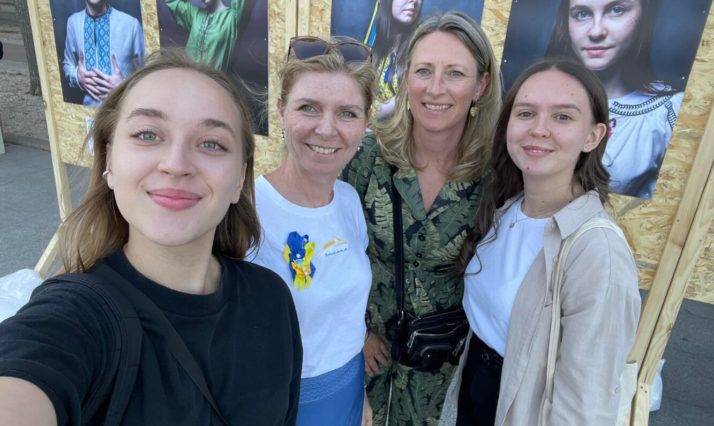 "Rebuilding Mykolaiv is not just about roads and buildings – it's also about communities and dreams for the future", says our Director Camilla Mordhorst after her visit to Mykolaiv, Ukraine.
In September 2023, our Director, Camilla Mordhorst, and Regional Director for our efforts in the EU's Eastern Neighbourhood Countries, Henriette Borg-Reinholdt, participated in "Mykolaiv Days" in Ukraine.
Danish Cultural Institute co-organised the Danish days in connection with the city festival. Here, a photo exhibition opened with portraits of young people from Mykolaiv, who describe their dreams and hopes for the city. The photos were taken in connection with their exchange visit to Copenhagen in December 2022 as part of the Ukrainian-Danish Youth House's project "MykoMrii". In addition, we contributed with a cycling event aimed at introducing Danish cycling culture to the Ukrainians.
"The willpower of Ukrainians still makes a big impression. Also their goodwill towards our presence, which can be seen in their smiling faces, but also in the form of all the Danish flags that could be seen in the cityscape during the visit. It may sound strange that 100 people are going cycling together during a war, but it is important to create small pockets of normality. Rebuilding Mykolaiv is not just about buildings, roads – all the exterior. Reconstruction also takes place in the minds – in the shaken minds of people," says our director, Camilla Mordhorst, after the visit.
A special thanks goes to the Danish Embassy in Ukraine, Ambassador, Ole Egberg Mikkelsen, Head of the Danish Embassy Office in Mykolaiv, Franciska Kirkegaard Flugt, Honorary Consul, Mykola Kapatsina as well as our local partners and good colleagues from the Ukrainian-Danish Youth House.
Read more about the visit here.
Mykolaiv Days 2023