14 · 09 · 2021
Danish Cultural Institute at the Youth Summit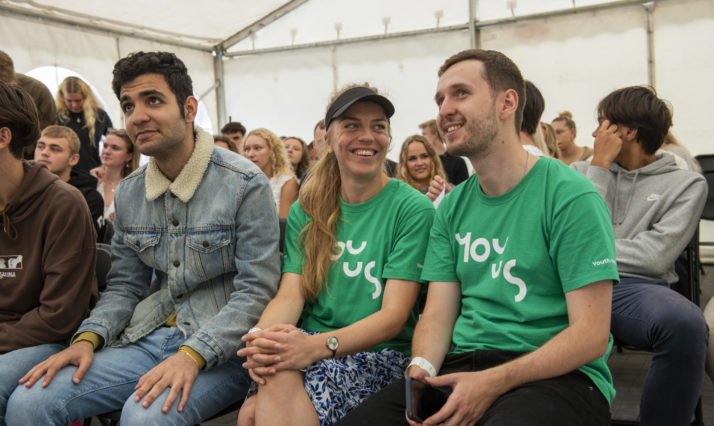 The luggage has been packed, and we have sent our colleagues from the Ukrainian-Danish Youth House to the airport after two days filled with new acquaintances, educational conversations, and not least a great energy from the Danish youth at this year's Youth Summit.
Together with the Ukrainian-Danish Youth House, a joint initiative with the Danish Youth Council, we were present at this year's Youth Summit from 8th – 9th of September.
We kicked off the festival by facilitating a workshop with two gymnasieklasser (high school classes). In an exercise with 60 young people, we used theatre as a method to talk about corruption.
At the stand we had VR-experiences where the students couldy ride a bike virtually through Ukraine and see what it looks like in one of the Eastern European countries.
Furthermore, the students could also leave a message on a wall about what their hopes and dreams for the youth house is.
We also had a big map of Europe with the text saying: "Where have you been?" Two days and a couple of hundred pins later we could conclude that most of the students mainly went west when traveling Europe. We had a lot of great conversations with the young people about why Eastern Europe happens to be forgotten when choosing a travelling destination. This activity was facilitated in collaboration with the New Democracy Fund.
At the festival site we sought out students to ask them some questions. The first being "For me a democracy is…" and the second being "Young people of Denmark and Ukraine have this in common…". The goal of both initiatives was to start a dialogue and learn more about the youth's perception of democracy.
The event ended at the highest level of engagement, when we together with the New Democracy Fund invited to a "Know your Neighbor"-quiz. We ended up quizzing with appox. 50-60 students about their knowledge on EU's Eastern Neighbourhood Countries. There were prizes at stake, so the atmosphere was tense.
Thanks to our colleagues at The Ukrainian-Danish Youth House, Danish Youth Council, and the New Democracy Fund for the great effort and collaboration.
We are already looking forward to next year!