21 · 11 · 2019
INVITATION: Ars Baltica Creative Dialogue Workshop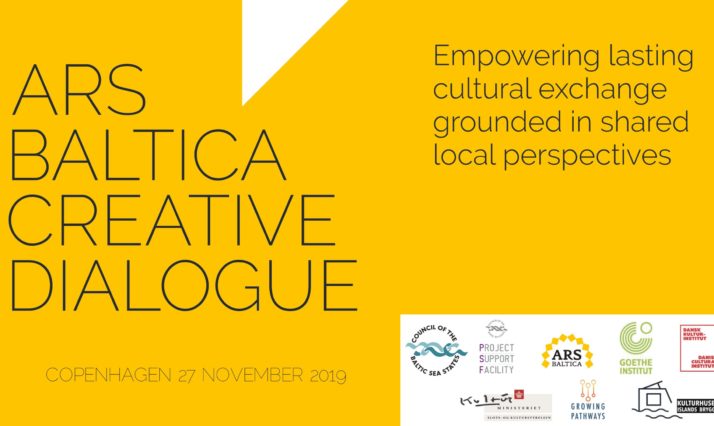 To download the full invitation, click here
Dear Cultural and Creative actors,
The Baltic Sea Region is home to a large number of diverse, exciting and challenging cultural and creative initiatives. They are diverse in the sense, that they reflect our modern, international and culturally manifold societies. Exciting in terms of the potential to engage participants on new perspectives and challenging in the sense, that they constantly want to move forward and challenge established value systems towards a more equal, tolerant and conscious world we live in.
We would therefore like to invite you to the following ABCD workshop:
Date: November 27, 2019 11:00am – 3:00pm (participation is free of charge!)
Venue: Kulturhus Islands Brygge, Islands Brygge 18, 2300 Copenhagen
Online Registration: click here
Community building in challenging times
Community building is about trashing the comfort of playing with your peers and selling only your successes. In an age where transformation is the name, but status quo is often the game, there is a strong need to improve the impact of common action. What does the map of your actions look like, and how do you bring others in there with you? Build a community that surprises you, challenges you, and carries you further.
Culture as a driving force for Sustainability
In the Baltic 2030 SDG Report, 7 avenues are drawn for the region to improve its sustainable impact. At least three of these depend highly on cultural interventions. Common understanding, collaboration, motivating youth. But maybe the real challenge for culture is to take the goals and become more than human, more than culture, more than good enough. Culture is where 'the goals' can finally feel real.
• Learn about Community building tools
• Connecting the SDGs to your everyday cultural practice
• Being part of a growing Cultural Network
Click here to watch the teaser for Ars Baltica Creative Dialogue Workshop!
You can download the full program with additional information regarding schedule and speakers by using the following link: ABCD Invitation