03 · 04 · 2017
Poems in the City – 27.000 Poems in Warsaw, among them 'Europe' by Thomas Boberg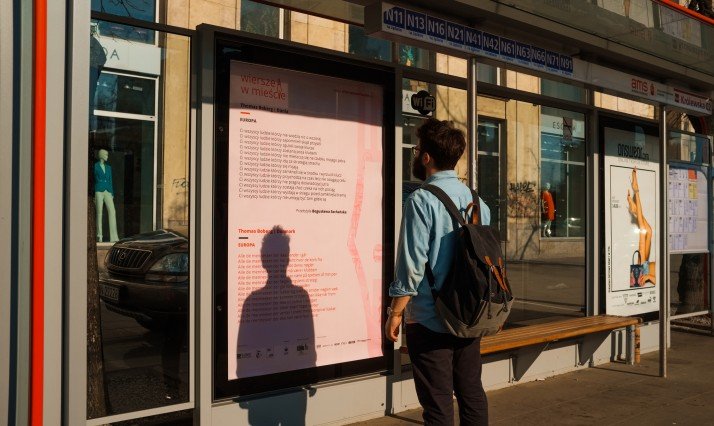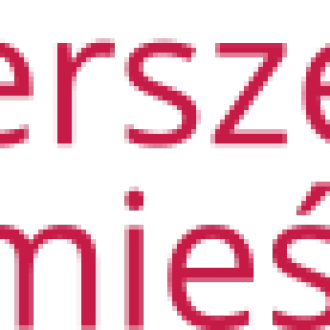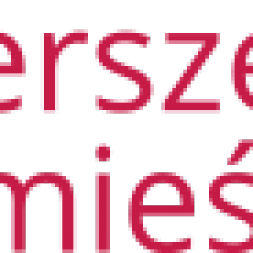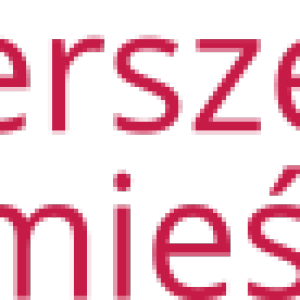 27 thousand poems appear in Warsaw on 1st of April, where poetry blooms in urban spaces, cafes, clubs and independent bookshops. This is the first edition of "Poems in the City", that emerged from the well-known "Poems in the Metro".
Poems surround Warsaw people every day and everywhere, appearing in 27.ooo places – posters, public transport stops, Warsaw city center etc. Over 100 cafes serve several thousand cups of coffee "dressed" in poetry. The poems hang also in clubs and are hidden on bookmarks in selected books from intimate bookshops and local libraries.
The poems are written by 17 European poets, some of them especially for this occasion.
The project's leitmotif is Europe with all its cultural richness, but also its contemporary problems. Europe as a community of universal values, cradle of culture and space for exchange of thoughts. The poems represent diversity of traditions, cultures and views, as well as being a testimony of the changes taking place in front of our eyes.
Danish poet Thomas Boberg takes part in "Poems in the City" with his poem Europe, translated into Polish by Bogusława Sochańska.
Thomas Boberg, Danish poet and prose writer, was born in 1960. He made his debut aged 24 and broke through with his travel reportage Sølvtråden. In recognition of his high class creativity Danish Arts Foundation gave Thomas Boberg a life-long creative scholarship in 2001. He has also been nominated twice for the Nordic Council's Literature Prize, in 1999 for Americas and in 2006 for Livsstil (Life Style). In 2012 he received the prestigious Grand Prize of the Danish Academy.
What are we, Europeans, today? Where are we going? How do we understand the cultural European community, if we do at all? - These are the questions we need to ask ourselves, if we want to meet the requirements of the time trial we're in. Do poets ask themselves about such things, and if they do, how do they answer such questions? This is what led us to formulate the theme of "Poems in the City"

Bogusława Sochańska, Director of Danish Cultural Institute in Warsaw.
European perspectives meet in Warsaw in the EUNIC project to create a more complete picture of reality, that we experience every day. Poetry is a contradiction of the curved mirror, it is worth to reach for it and reflect on the reality.

Sabra Daici, Director of Romanian Cultural Institute in Warsaw
Once again we are entering the urban space with art. We're glad that Warsaw inhabitants will encounter poetry. Journey to work or school will become an opportunity to read the poems, that in vast majority have been translated into Polish for the first time. It's wonderful to create a project that shows Europe's diverse and cultural richness. Look for the poems at stops, in cafes and libraries
Tomasz Thun-Janowski, Director of the Culture Office of the Capital City of Warsaw
Poets
Angelika Rainer, Austria
Anise Koltz, Luxemburg
Aušra Kaziliūnaitė, Lithuania
Daniel Jonas, Portugal
Daniela Seel, Germany
France Prešeren, Slovenia
Geert van Istendael, Flandern
Joanna Mueller, Poland
Katariina Vuorinen, Finland
Leelo Tungal, Estonia
Moniza Alvi, Great Britain
Muharrem Dayanç, Turkey
Rita Chirian, Romania
Seamus Heaney, Irland
Thomas Boberg, Denmark
Valerio Magrelli, Italy
"Poems in the City" is organized by the Warsaw cluster of European Union National Institutes for Culture (EUNIC-Warszawa). EUNIC works a.o. also with European Day of Languages, International Translation Day or Spoke'N'Word Festival – events, that have become recognizable for Warsaw inhabitants. The institutions affiliated to EUNIC work together and share their experience with local partners (e.g. NGOs and cultural institutions) and European Commission. "Poems in the City" is co-organized by the Capital City of Warsaw.
Partners: the Royal Łazienki Museum in Warsaw, Old Town House of Culture.
If you have any questions, you are welcome to contact us.
Danish Cultural Institute
Tlf: +45 33135448