19 · 02 · 2019
International Women's Day – Breakfast Discussion in Brussels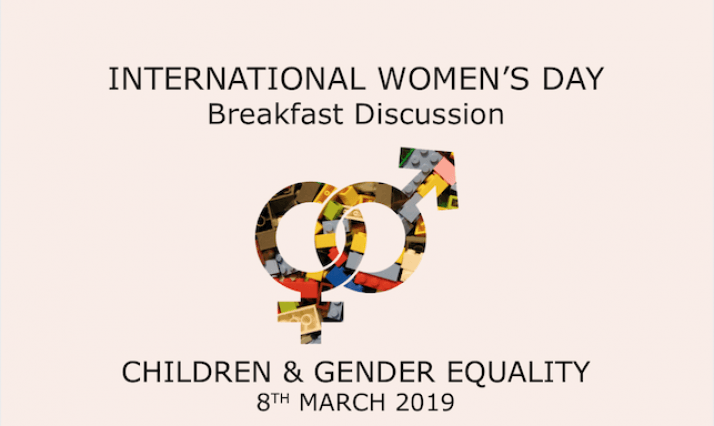 Breakfast Discussion on Gender Equality on International Women's Day at the Danish Embassy in Brussels
Do girls and boys have equal opportunities in education and self-expression? This question is asked by the Nordic diplomatic representations and cultural institutes in Brussels at a breakfast discussion on International Women's Day.
The subject of gender equality among children is often discussed both in the media, public debates and general discourse and can spark knee-jerk reactions about perceived differences between boys and girls. At this event the panelists will dig a little deeper. Childhood is the time we learn foundational skills and form ourselves as human beings and our understanding of the world. True gender equality is as important for our societies as it is for the individual.
In the Nordic countries, researchers and educators have been studying the subject for decades, but we still have a lot to learn. The purpose of the panel discussion is to take a look at what role gender plays in education and learning in our systems today. And inspire with best practice examples of how to teach girls and boys to overcome stereotypes and develop themselves freely.
Panelists
– Danielle Lindholm (AX), Åland's Feminist Umbrella Network
– Margrét Pála Ólafsdóttir (IS), Founder of the Hjallastefnan Schools
– Kalle Laanterä (FI), Director of Poikien Talo ("Boys' House")
Welcome by: Elin Mortensen, Head of Mission of the Faroes to the EU.
If you are in Belgium and want to attend, check out the Breakfast Discussion Facebook Event
NB: Mandatory registration before 1st March to: info@danishculture.eu
Breakfast Discussion
8th of March, 8:30-10:00
Embassy of Denmark to Belgium
Rue d'Arlon 73, 1040 Brussels
The event is a Nordic collaboration between the embassies to Belgium of Denmark, Iceland, Finland, Sweden and Norway, the Mission of the Faroes to the European Union, Åland's landskapsregering, the Finnish Cultural Institute for the Benelux and Danish Cultural Institute in Brussels.
If you have any questions, you are welcome to contact us.
Danish Cultural Institute
1463 København K
Tlf: +45 33135448