23 · 06 · 2017
HuskMitNavn is Partaking in Art is Comic Exhibition at Mima in Brussels

The Danish artist HuskMitNavn is partaking in the exhibition Art is Comic at the MIMA Museum in Brussels. The multidisciplinary artist sketches his characteristic figures into absurd comic-book-like situations, offering a controversial view on, politics, modern life and the advertising industry. His artistic practice varies from graffiti in public spaces and illustrations for print media, to paintings and drawings and social media, which are frequently presented by international galleries and collected by public institutions, including Statens Museum for Kunst in Copenhagen.
At the MIMA, HuskMitNavn will bring the visitors inside his own world, working in the peculiar space of the MIMA chapel. The artist will play with the original shape of the ceiling and create the illusion of a space ship coming down on earth. A giant fresco to amuse the visitors about the thin line between dream and reality, between the sky and the grass.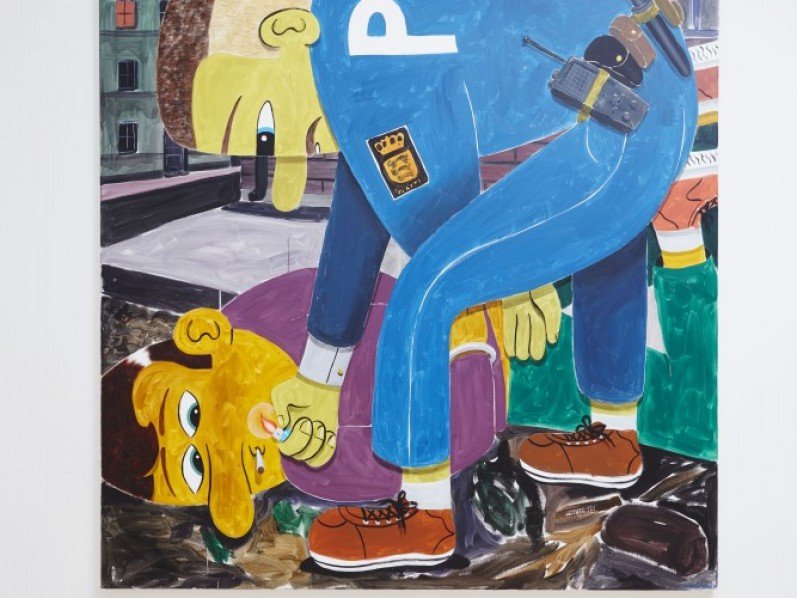 Art is Comic
Art is Comic will be the third exhibition at the MIMA. The 7 artists involved are all challenging the institutional artistic categories moving from illustration, to fine arts, to comics, always with a strong sense of humour. They are: Brecht Vandenbroucke, the duo Mon Colonel & Spit, Brecht Evens, Jean Jullien, Joan Cornellà and HuskMitNavn.
The exhibition focuses on iconic international artists moving in the same spectrum: some are champions on Instagram, some are rising stars in the comic galaxy, some are skilled artisans. Each artist will present their work in a playful and immersive way from the ground to the top floor of the museum.
HuskMitNavn's contribution to the exhibition is supported by the Danish Arts Foundation.

If you have any questions, you are welcome to contact us.
Danish Cultural Institute
1463 København K
Tlf: +45 33135448