2023
Exhibition: "God plays dices, indeed"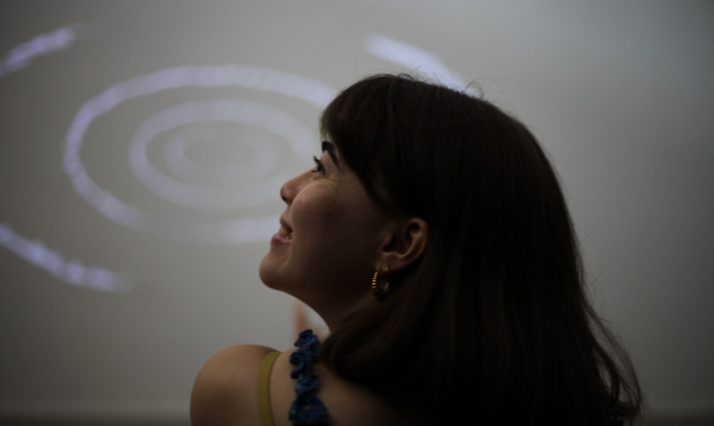 Danish Cultural Institute in China launched the exhibition "God plays dices, indeed" in the autumn of 2023.
The title of the exhibition refers to a famous conversation between the Danish physicist Niels Bohr and Albert Einstein, who did not accept Bohr's theory that quantum objects like electrons and light particles can behave as both particles and waves, depending on how they are observed. This is known as the "Copenhagen interpretation."
Einstein's comment was, "God does not play dice," referring to the fundamental idea of the theory that the universe is unpredictable.
With the exhibition "God plays dices, indeed" in Beijing, we have brought together some of Bohr's most important thoughts, works, and images from his travels to China and combined them with the sound work "Complementary Resonance," inspired by the enigmatic world of quantum physics.
Throughout his career, Bohr showed great interest in art and philosophy. His thoughts on cultural exchange and peaceful coexistence have left their mark both inside and outside Denmark's borders. During World War II in 1940, Niels Bohr was one of the Danish intellectuals behind the establishment of the Danish Cultural Institute. To this day, we continue to uphold the fundamental idea that we can create connections between people through art and culture.
In the past year, we have marked the 100th anniversary of Bohr's Nobel Prize with an exhibition that has been displayed in Denmark, Latvia, and most recently in our cultural center in Beijing. Here, our colleagues, with "God plays dices, indeed," have touched upon Bohr's interest in Chinese philosophy and his view of art and science as complementary entities. Bohr himself had the notion that scientists must, to a large extent, work artistically; "because when they invent something new and describe it, they have to work artistically to communicate their research findings."
We have taken Bohr at his word and attempted to convey the wondrous world of quantum physics through words, objects, images, and sound art.
Read more about the work "Complementary Resonance," created by the artists Tie Yann (CN), Jacob Kirkegaard (DK), and Anna Kirse (LV) here.
The exhibition is a collaboration between the S.C. Van Foundation, the University of Copenhagen, the Niels Bohr Institute, and the Visionary Culture Foundation.
Good plays dices, indeed 2023