16 · 05 · 2019
Turkish performing arts professionals visit festivals in Copenhagen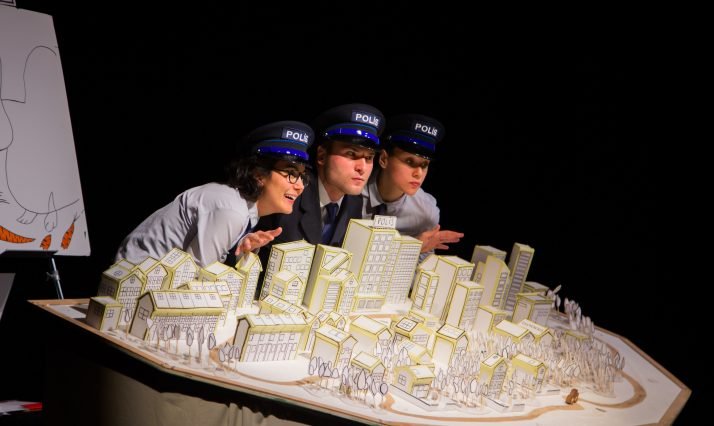 Turkish performing arts professionals visit three dance and theater festivals in Copenhagen
Turkish performing arts professionals visits theater and dance festivals in Copenhagen in May 2019, to develop performing arts and further the cultural rights of children and young people.
DCI's efforts to develop strong relations between the cultural life in Denmark and Turkey continues, with a visit from Turkish performing arts professionals at three Danish festivals for theater and dance. These three festivals, SPRINGfestival, subURBAN Dance Festival and CPH STAGE, all taking place late in May, are ideal "venues" for activities which are part of DCI's work in the field of performing arts, with international as well as Danish performers on the program, and strong facilitation of networking and exchange of experience.
The guests from three of Turkey's biggest festivals are: Hakan Silahsizoglu, director of ATTA Festival, Dr. Leman Yilmaz, director of Istanbul Theatre Festival (TR), Öner Eren Arıkan, director of Bergama Theater Festival (TR), and actors Sibel Curciali, Anıl Çalım, Derya Cumaoglu and Simel Keçicioğlu.
All the partners are engaged in collaborations aiming to improve performing arts for both children and adults – nationally and internationally. Last year, DCI started a cooperation with ATTA festival, which brought Danish Teater Minsk to the festival, playing seven performances and leading workshops.
Read more on the visit by Teater Minsk at ATTA festival
An area of interest are the development of the cultural rights for children and young people. DCI is building sustainable transnational network for the benefit of people behind, on and in front of stages in Denmark and Turkey.
Participation at festivals
SPRINGfestival
SPRINGFestival is an international festival of performing arts for children and young people, organized by ZeBU – Zenekunst for Børn og Unge, based in Amager and taking place between 20.-26. of May.
The Turkish actors will perform the play "Tavşan Aranıyor"/"Wanted: Rabbit" at Børnekulturhus Ama'r on Wednesday the 22nd of May at 16.30 and Thursday the 23rd of May at 9.30 and 11.30 (closed performances), and in Amager BIO – scene 1 Saturday the 25th of May at 13.15 and 17.15.
Hakan Silahsizoglu will also participate in the event, e.g. as a panelist in the professional seminar "BRUNCH TALK – Diversity and international perspectives" (Friday 24th of May at 10-12).
subURBAN Dance Festival
Between 18th-24th of May the festival fills streets, cultural centers and libraries in Nørrebro, Bispebjerg, Brønshøj and Tingbjerg, and on the 23rd and 24th of May, Hakan Silahsizoglu and Füsun Eriksen participate in the festival's showcase event together with representatives of the urban dance scene of several European countries.
CPH STAGE
Like we did last year, DCI is cooperating with CPH STAGE (22. maj til 2. juni) on this year's edition of CPH STAGE'S INTERNATIONAL VISITOR'S + INDUSTRY PROGRAMME, running between 26th-29th of May at Nørrebro Teater. Among the participants will be Dr. Leman Yilmaz, Öner Eren Arıkan and Hakan Silahsizoglu.
Worth mentioning are a DCI-Turkish collaboration not on stage but on screen. Füsun Eriksen has advised the festival Nye film fra Tyrkiet (New Films from Turkey) on strategy and programming.
Read more on DCI's activities connected to Danish festivals in 2019
Thumbnail and banner image: Yasemin Taşkın