04 · 11 · 2016
CRASH! A dance performance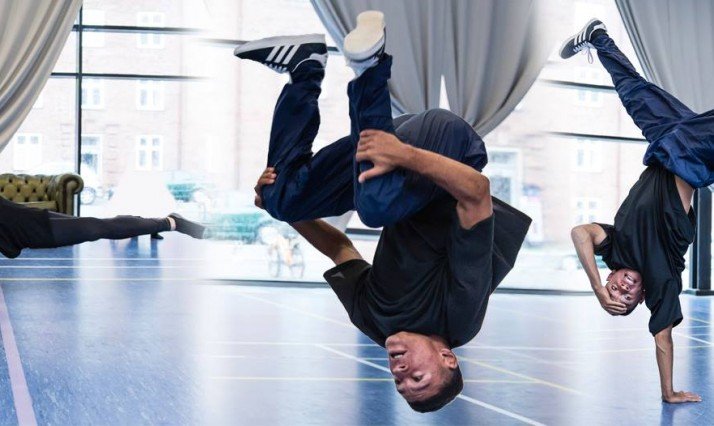 Breakdance and contemporary dance – Uppercut Dance Theatre and DF Zulu Breakers – Duality and Union.
From the 4th to the 12th of November 2016 people in Brasília have the opportunity to see the dance performance, CRASH!, created and presented by dance companies Uppercut Dance Theatre (DK) and DF Zulu Breakers (BR). The dance companies will embark on a tour through the SESC units of Gama, Tatuatinga and Setor Comercial Sul, where they will perform and carry out workshops.
"The car broke down and now it is up to the passengers to fix it. Will they make figure it out? What happens when three young Danes and three Brazilians with different movements and cultures have to find a common rhythm and a common form of expression?"
This is the underlying story behind CRASH! – a dance performance that is the result of a collaborative long distance process between dance companies Uppercut Dance Theatre and DF Zulu Breakers. The performance is part of the dance profile of Danish Cultural Institute, DançaDK.
The profile DançaDK was created to emphasize the exchange between the two cultures and act as a platform for developing actions of cooperation within the area of dance and dance education. The first encounter between the dancers took place last year in Copenhagen where they presented the first part of their performance at the dance conference, Dance and the Child International (DaCi) 2015 (part of UNESCO).
Leading up to the conference, the groups put into practice a co-creative processes called Twinning, an inspirational and unpredictable way to work in groups via the Internet. Within dance, Twinning represents a way to work with skills, competencies and knowledge, which is shared among people present in distant countries.
The collaboration is carried out in partnership with The Danish National School of Performing Arts and Deborah Dodd Macedo, ex-professor at the school and current professor at Instituto Federal de Brasília.
WORKSHOPS & SOCIAL INCLUSION
Besides performances of CRASH! the tour also involves a series of workshops with the intention of promoting social inclusion of young people in the peripheral areas of Brasília.
The workshops last 50 minutes and are aimed at young people and children from the age of 8. Moreover, some of the workshops are only for public schools whereas the rest are the general public.
DANCERS:
MARK PHILIP (DK)
RAPHAËL FERDINAND EDER-KASTLING (DK)
LUKAS LARSEN (DK)
ROBSON LUIS MENEZES BARBOSA (BR)
LUCAS EMANU (BR)
VITOR HAMAMOTO (BR)
MUSICIANS:
EDGARD FELIPE (BR)
RICARDINHO ART (BR)
DIRECTION:
STEPHANIE THOMASEN
COORDINATOR:
DEBORAH DODD MACEDO
PROGRAM:
PERFORMANCES (free entrance)
SESC Gama 5/nov. 20:00
SESC Setor Comercial Sul – Brasilia 12/nov. 16:00
WORKSHOPS (free entrance)
SESC Gama 5/nov, 16:00,
SESC Setor Comercial Sul – Brasília 12/nov, 14:00.
PRESENTATIONS AND WORKSHOPS FOR SCHOOLS:
SESC Gama 4/nov.
SESC Taguatinga 8 and 9/nov.
SESC Setor Comercial Sul – Brasília 11/nov.
MATRICULATION FOR WORKSHOPS AND FOR MORE INFORMATION: info@dinacultura.org