21 · 06 · 2018
Great turnout and inspired input at the seminar Why India?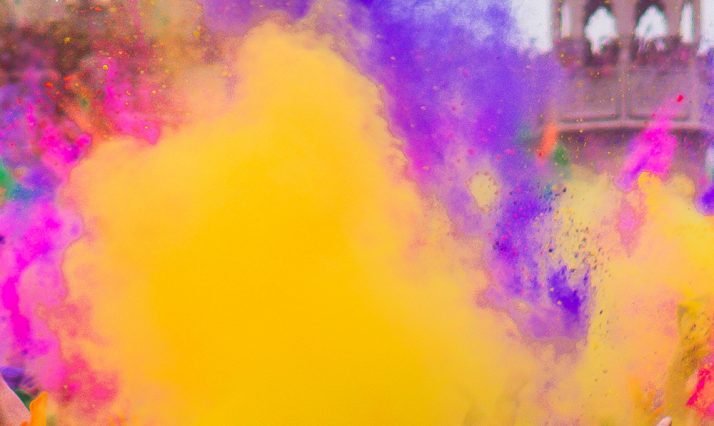 Plenty of anticipation and enthusiasm at Why India Seminar
On Wednesday the 30th, of the warmest May in Danish recorded history, representatives from all areas of public life met at the historically significant Asia House, to discuss the question: Why India? The seminar was arranged by Danish Cultural Institute as part of the preparations for opening a cultural institute in India, later in 2018. The green light for the opening came through in the slipstream of the meeting between Prime Ministers Narendra Modi and Lars Løkke Rasmussen.
The program presented speakers from both diplomacy, business, NGOs, academics, music and literature – DCI Secretary General Michael Metz Mørch tied the different inputs together. Starting the conversation was Chairman of the Board, Carsten Haurum. He expressed his appreciation for the turnout, and for being able to say welcome to all, on such a happy occasion.
Susanne Rumohr Hækkerup, Executive Director of Asia House, welcomed all on behalf of the house, and spoke on the time she helped kickstart the Danish Cultural Institute in Beijing. The parallels to the forthcoming opening in India were clear, and Susanne wished for the new venture to be as successful as the China branch has been. She underlined that Asia House will be very interested in following and helping along the developments in India, in line with their 100+ years of bringing Asia and Denmark closer together, in all aspects of life.
With these opening remarks, the appointed speakers took the stage.
Culture brings us together
The positive effects of cultural exchange makes themselves felt in all walks of life and in all sectors of society. Proving that point beyond reproach, was two speakers from the diplomatic circles and business life respectively.
The Ambassador of Denmark to India, Peter Taksøe-Jensen gave a detailed recounting of the immediate relationship between Denmark and India, and the different undertakings leading up to it and reaching out into future improvement.
Indo-Danish relations are rapidly improving these years. The recent meeting of the Prime Ministers was a diplomatic breakthrough. And of course, the agreement that allows DCI to open up in New Delhi is both a sign of a better bilateral climate, and an important step in securing further improvement. Taksøe-Jensen called the opening a milestone, and looked forward to sharing working space with the institute, as the new Danish embassy (being built right now), will also house the DCI office. He fondly remembered the productive visit by the General Secretary and DCI Senior Advisor Olaf Gerlach-Hansen, last year.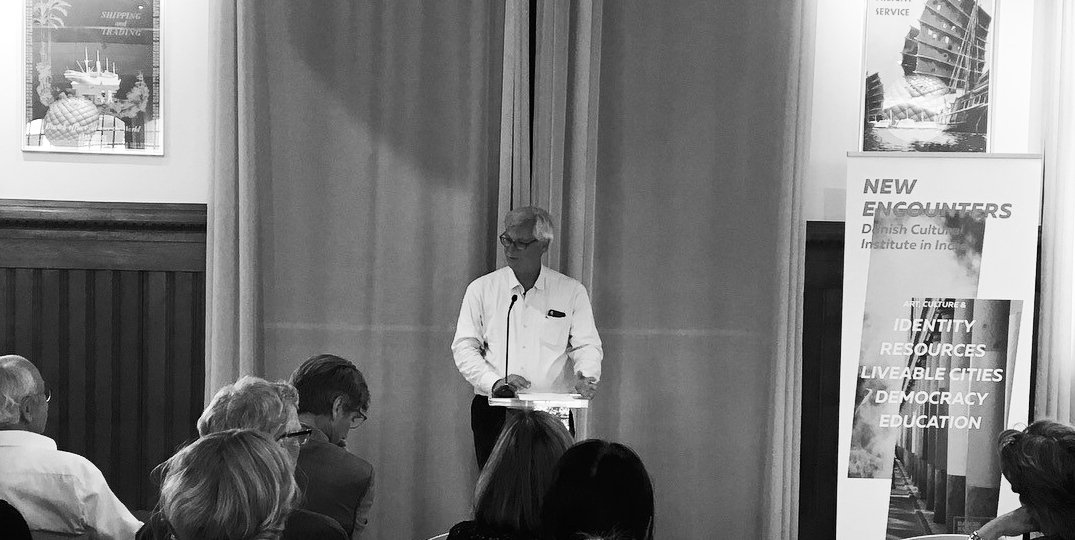 Another milestone has been the opening of a new flight route between Denmark and India. Danish tourism in India has been growing, and the growth is expected to continue. India is the world's largest democracy and has the 6th largest economy – depending on the figures – but economists predicts further expansive growth. Some forecasts even predict that India will be the world's second largest economy by 2050, only surpassed by China at that point in time! For all these reasons the need for cooperation with India will only grow and it is an ambition of the Danish government to turn the relation into a strategic partnership in time.
Taksøe-Jensen switched the perspective as well, from the future to the past. He spoke of 400 years of Indo-Danish exchange, reaching back to the establishment of the Danish trade station at Trankebar in 1620. Maybe the relationship have even deeper roots, as Indian goods have been found in a Viking tomb.
Søren Holm Johansen, Executive Director at Ramboll Group, gave another kind of historical perspective. Sharing a story of his own time in India, where he lived for three years in the early 90s in South Delhi. Sitting in his garden in the evenings, overlooking two tombs, he could witness the local people going about their chores. In this atmosphere music blended with the other impressions, music which, it turned out, came from the neighboring house. Here, Amjad Ali Khan, a great star of the Indian music scene, playing the classical instrument, the sarod. Holm Johansen and the musician struck up a friendship, bringing a deeper richness to Holm Johansen's understanding of India, and especially of the Muslim part of the population, of which Khan is a representative.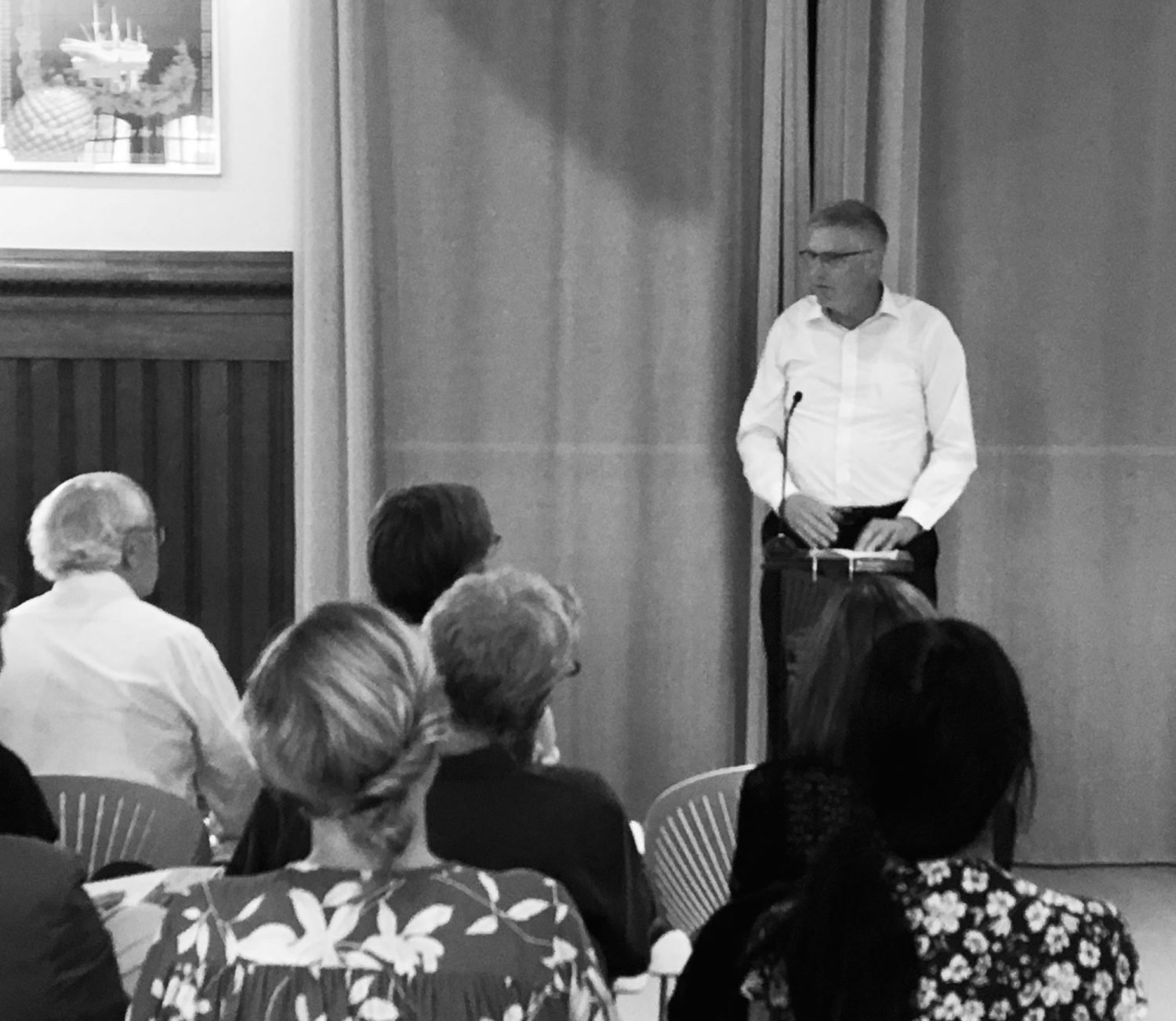 This story of culture bringing people together, and opening up new understanding and new possibilities, Søren Holm Johansen linked to another meeting of the minds. When the joint business venture called L&T-Ramboll Consulting Engineers Ltd., a driving force behind development in India, was formed in 1998, the seed for organizational cooperation had been sowed, when Børge Johannes Rambøll and Henning Holck-Larsen, the leaders of the two companies, met and became long lasting friends, basing their mutual understanding on a shared appreciation for art and culture. Another example of culture bridging people and their ideas.
Two harvests every season
Representing the world of academic study and research projects was Ravinder Kaur, Ass. Professor of Modern South Asian Studies at Copenhagen University and Bente Wolff, Director of the Danish National Museum's department for Insular South East Asia, South Asia and Oceania, at the Ethnographic Collection.
Ravinder Kaur directs the Centre of Global South Asian Studies at CU and is currently engaged in a long-term research project focusing on India's transition into an attractive 'emerging market' in the global political economy.
Kaur gave an insightful lecture on the historical connections between Europe and India, emphasizing that the opening of DCI in India is a major opportunity. India is soon to become the youngest and most populous country in the world. It is a large and growing market, and its political weight is growing. All mirroring Taksøe-Jensen's report.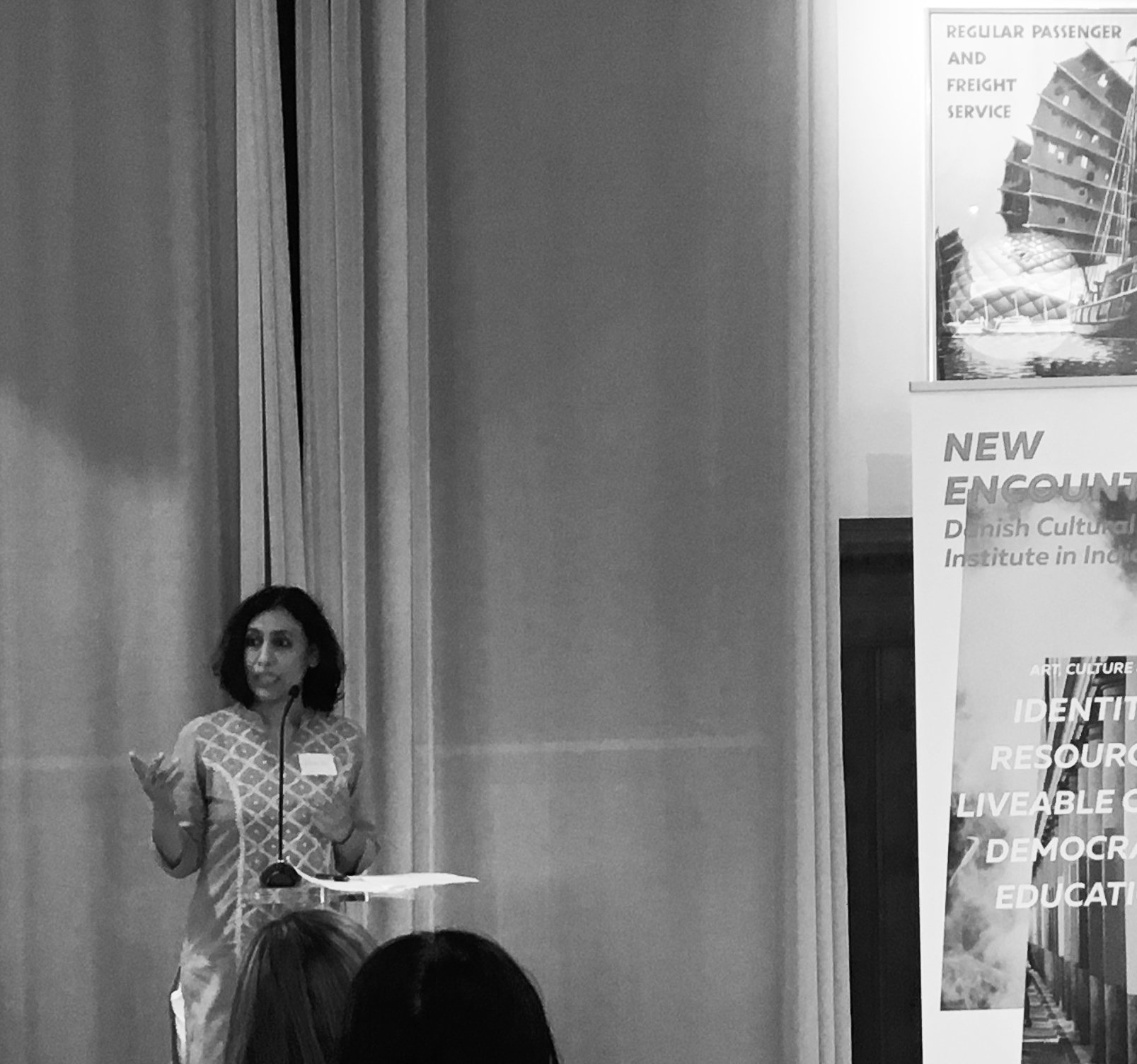 When it comes to the historical perspective, European relations to India go back further than many assume. In ancient Greece, India was perceived as a land of plenty and of great opportunity, and it was said that there were two harvests per season. In many ways, India is seen the same way today.
There is not a huge amount of Danish academic writing concerning bilateral relations to India. The opening of the Indian branch of DCI thus opens up for new and exciting possibilities to help along future academic research in the field. One way to do this, Kaur suggested, was for DCI to engage young students of both countries who seek opportunities and have the enthusiasm for creating a new generation of engagement and cultural exchange.
Bente Wolff has been the project leader on "The Serampore Initiative", a project from the National Museum, aimed at restoring and revitalizing the Serampore area, a former Danish colonial complex in India. The Danish activities in Serampore during the colonial era, was in many ways a modern breakthrough Wolff explained. A Baptist mission became a hub for collaboration between Indians and Europeans, working together on paving the way for Human Rights. An inspiring story for the work to come. Bente Wolff underlined that there is a high level of local interest in the initiative, also from local media. Part of the projects have now been taken over by the government of West Bengal.
Transformation and respect
Finally, the day would not have been in the true spirit of DCI if the program had not included contributions from the artistic circles.
Conductor Maria Badstue exemplified the exciting possibilities of a new generation of cultural exchange. Adopted from India to Denmark, she recently had the chance to experience her country of origin for the first time, conducting a concert at the Royal Opera House in Mumbai. In India, western classical music is not very widespread or well known, but there is great enthusiasm for learning more. Badstue's next project will be a collaboration with the Symphony Orchestra of India and the Danish choir school Den Jyske Sangskole, engaging young musicians from Denmark to travel to Mumbai, where they will perform and create new ties to their peers in India.
Creating cross-cultural ties is paramount for saxophonist Lars Møller. Almost thirty years ago, he travelled to India, where he was exposed to an abundance of musical inspiration. Since then he has come to regard the great country as a second home, staying there for several prolonged periods. Now he merges influences from jazz, Indian classical music and more.
The attendants of Why India? were lucky enough to get a taste of the jazz/raga blend, performed by Lars Møller on saxophone accompanied by classical raga from a speaker. Lars Møller has founded the Global Jazz Explorer Institute, which aims to broaden cultural perspectives, through artistic projects and education. It is important truly to see the people of a foreign culture, Møller said, and to dare interacting with culture in ways that transform it, while still being respectful of it.
The last speaker of the day was writer Josefine Klougart. She gave her perspective and advice for how best to create meaningful artistic exchange and how this can be used to tackle some of the world's many challenges. Klougart recently attended Jaipur Literature Festival, the world's largest free literary festival, where she was invited to take part in international panel discussions with other authors.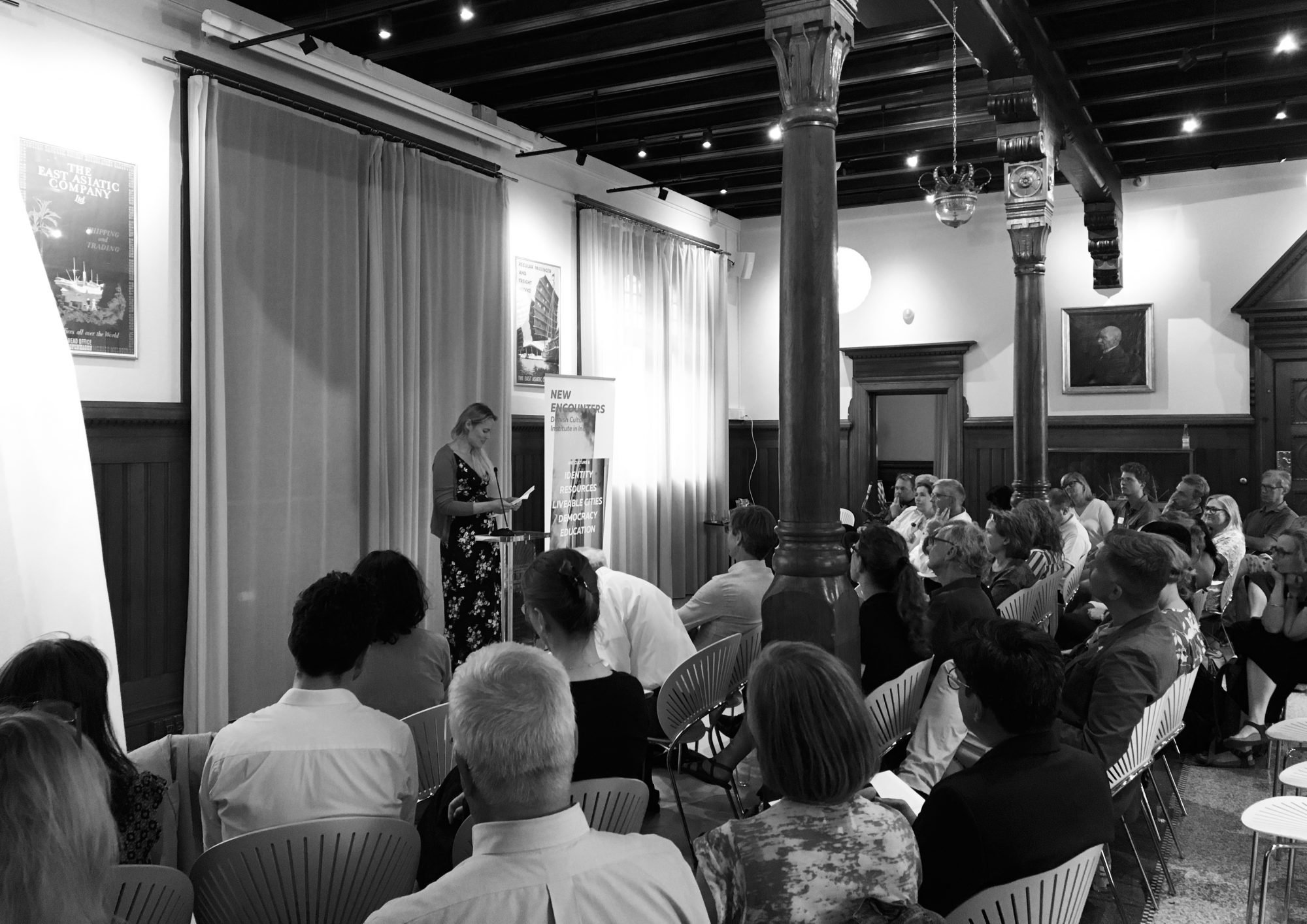 Emphasizing the great potential of cultural exchange, Klougart stressed the importance of mutual understanding on a personal and international level. International artistic exchange gives us a chance to discuss local and global challenges, how they are different, how they are similar, and how they are interconnected in many ways. Literature and other art forms can carry both complexity and sensitivity helping us to open our imagination, which in turn makes it easier to find solutions for some of the ecological and economic crises that transcend the borders, languages, and time scales that constitute our lives.
Klougart spoke on what she thinks is the best way to go about facilitating artistic exchange. As an example of this she recalled an initiative that gave her the opportunity to spend a whole day engaging with colleagues from around the world prior to a panel discussion. As Josefine Klougart said, personal connections make professional conversations more interesting and productive. Furthermore, stronger ties between colleagues from different countries makes it possible for them to act as local ambassadors for each other, and inscribe international art in a local context.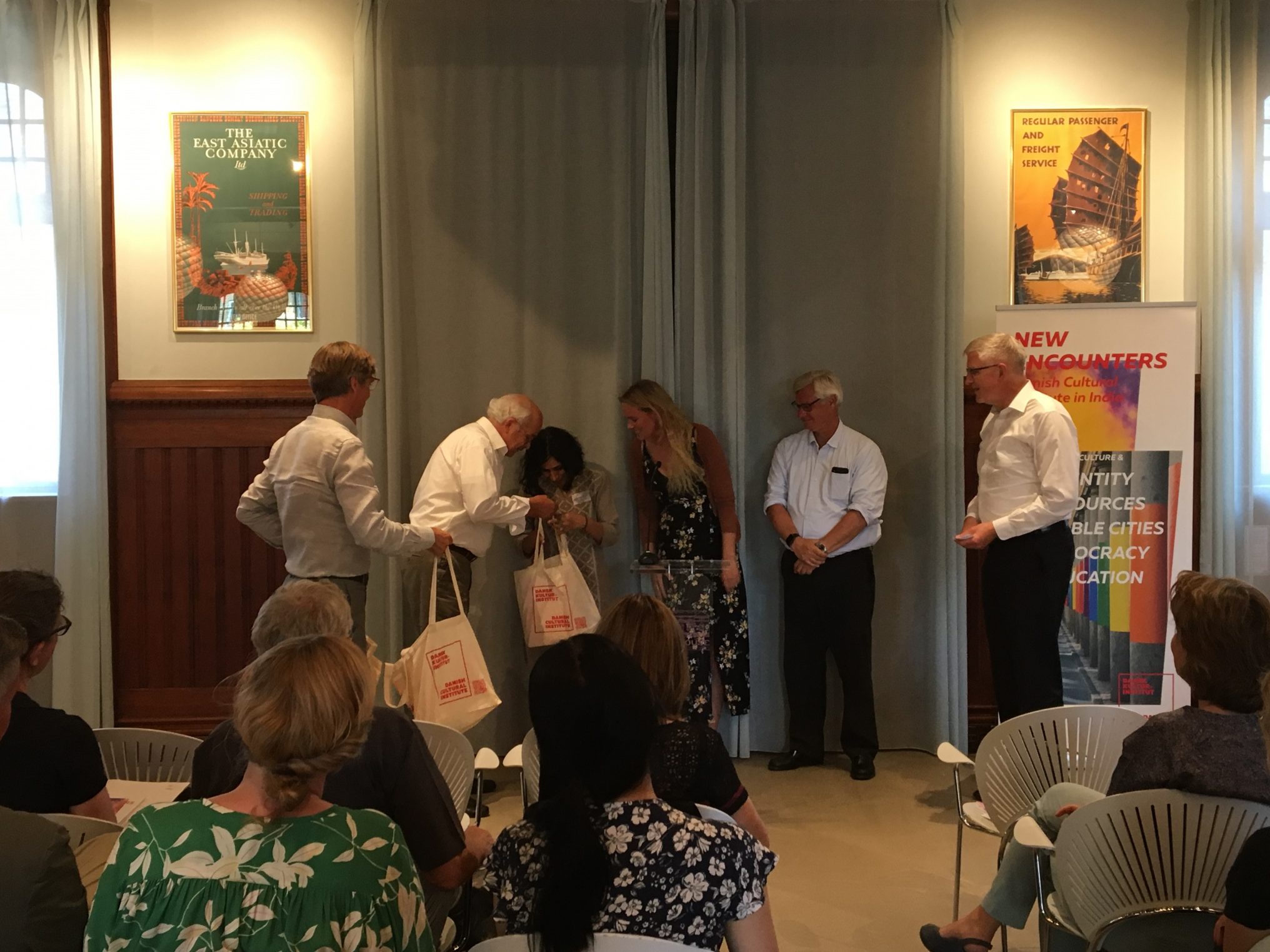 Danish Cultural Institute sends a big thank you to all the speakers and all the good people who joined us for Why India?
We look forward to working with you all in the future and in marvelous India!
If you have any questions, you are welcome to contact us.
Danish Cultural Institute
1463 København K
Tlf: +45 33135448