18 · 06 · 2018
CPH STAGE and DCI together reached a higher level in the international work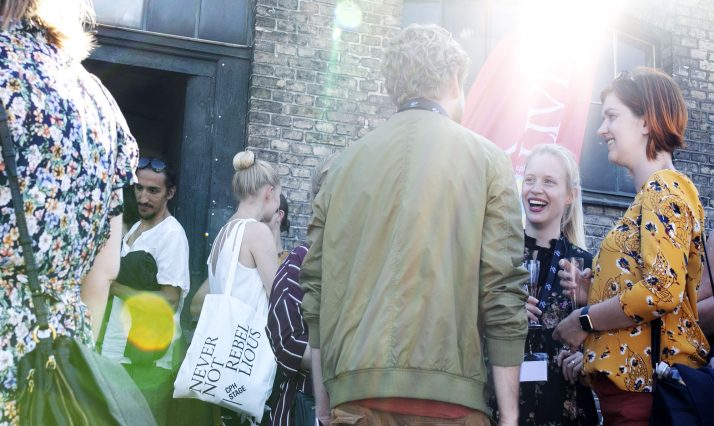 In collaboration with CPH Stage, Danish Cultural Institute invited nine acknowledged players within performing arts to Copenhagen in the beginning of June. During 4-5 days the guests from Brazil, Belgium, Estonia, Latvia and Lithuania entered a fruitful dialogue with the Danish performing arts scene by participating in the theatre festival and contributing to the associated industry programme.
A tall and smiling man is standing on a home-built stage made of heavy concrete blocks. With a white megaphone he welcomes a large group of people. The sun is burning down on the hot cobblestone. In addition to being dressed in their nicest and most colorful summer clothes, the group of people is surrounded by a forest of just as colorful wooden signs. It is difficult not to think about concepts such as demonstration, anarchy and strike. "Sugar", "The Great Dictator", "Wir Wollen Plankton Sein", "Life is Good" and "Vanity of Modern Panic", some of the signs state.
The scene takes place at Kvægtorvet in the Meat Packing District at Vesterbro in Copenhagen. The man with the megaphone is also known as Festival Manager Morten Krogh. The wooden signs state a range of theater play titles. We're at the opening of CPH Stage 2018 – an annual festival focusing on contemporary adult theater and performing arts.
This year's festival featured about 100 performances from Denmark and abroad. It took place on 40 stages around Copenhagen between 31st of May and June 9th.
With the intention of strengthening a fertile international exchange and bringing new inspiration to Danish performing arts, a few weeks back Danish Cultural Institute's branches in Brazil, Belgium and the Baltic States, had invited nine cultural players from Brazil, Belgium, Estonia, Latvia and Lithuania. The guests participated actively in both the festival and in the so-called International Days, an industry programme, which also took place in the Meat Packing District at Teater Sort/Hvid from 31st of May to 2nd of June. The visiting program for DCI's guests were realized in a very successful partnership with CPH Stage.
On the collaboration, DCI's Senior Advisor Füsun Eriksen explains: "Several of our branches around the world have previously worked with CPH Stage. This year we wanted to engage in a more strategic and overall cooperation, thus creating a stronger foundation for exchange and visibility for all the parties involved."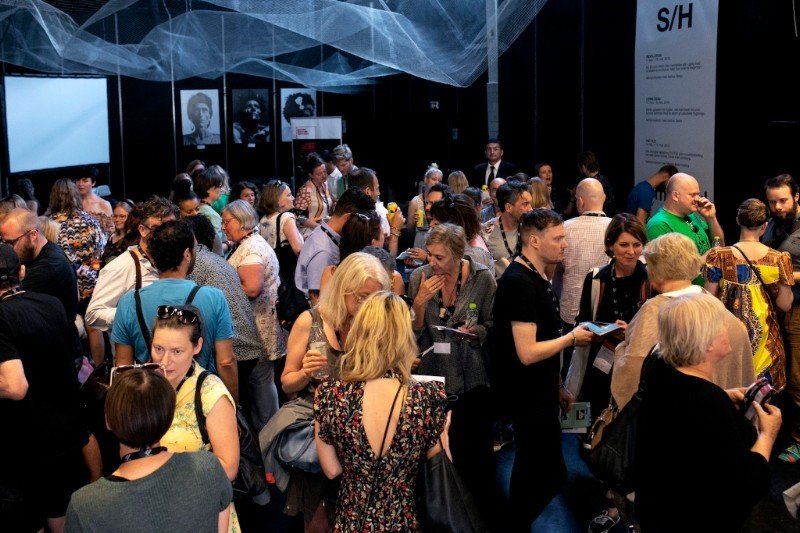 Active participation
Several of DCI's international guests participated in the official program of the festival. For example, in the sessions "Curating Performing Arts" and "Reflecting Performing Arts in an International Perspective" (Thursday 31st of May), one could listen to the Lithuanian Curator Goda Giedraityte's perspectives on curative processes. She also participated in a feedback session with the Danish dance company Gunilla Lind Dance Theater. Goda is a producer at the new-circus festival Plartforma, which takes place every year in September. Danish Cultural Institute in Riga invited her to come.
From the Baltic countries, two other players working in the field of new circus participated as well; Mara Pavula (Riga Cirks, Latvia) and Karmen Aasanurm (HOOG Festival, Estonia). The Baltic guests visiting CPH Stage followed up on the Danish participation in the International Circus Education Conference in Riga in April 2018.
To mark the end of the international industry programme, a series of artist talks took place on Saturday morning the 2nd of June. Danish, German, Chinese, Italian, Belgian and Iranian theater professionals, producers and instructors took part in a more intimate conversation format in the entrance hall of Teater Sort/Hvid. One of the guests "talking" was Tunde Adefioye (KVS Brussels), invited by Danish Cultural Institute in Brussels. Tunde is working as city dramaturg at the Royal Theater in the Flemish part of Belgium, and he is previously affiliated with the Urban Woorden organization with whom DCI in Brussels has collaborated. On this Saturday morning Tunde participated in an artist talk about inclusion, diversity and curating processes.
Danish Cultural Institute in Brussels also invited Ingrid de Ketelaere (BOZAR Centre for Fine Arts) and Andrew Manning (European Concert Hall Organization) to participate in the conference.
Finally, Danish Cultural Institute in Brazil had invited Fernando Zugno (Porto Alegre em Cena), Antônio Araújo and Guilherme Perpétuo Marques). The participation of the two latter  – both from the international theater festival MITsp – was actually part II of a mutual exchange between the Danish and Brazilian performing arts scenes. Part I happened earlier this year, when theater director Jakob Højgaard Jørgensen (Nordkraft, Aalborg) visited São Paulo and the city's performing arts scene.
Higher level of collaboration
According to Karen Toftegaard (International Project Manager at CPH Stage) the festival's collaboration with DCI reached a higher level in 2018. She explains: "Our collaboration with DCI In 2017 was based on Belgian visits arranged by the Institute in Brussels. This year a much broader collaboration with DCI in Brazil, the Baltic States, Brussels and headquarters in Copenhagen was established. In 2017, for example, we invited Tunde Adefioye as a guest and this year he returned as an official part of the CPH Stage International Industry Program. He clearly helped to inspire a number of Danish performing arts players by sharing important aspects of his practice.
In addition to this, in our cooperation with DCI in the Baltic States we mutually chose to focus on new circus, as these countries have relatively new scenes within this genre – and it is also at a level that matches the Danish one. In addition to the programme itself, the Baltic guests participated very actively in the festival's social events and created many contacts to the Danish performing arts environment in this way. Finally, it has been very important to establish meetings and to discuss possible inspirational and collaborative perspectives with the theater professionals from the Brazilian festivals and from BOZAR Centre for Fine Arts in Brussels."
Colorful and well-attended reception
Another event that highlighted the cooperation between Danish Cultural Institute and CPH Stage was the international reception in the afternoon on 31st of May. The summer outfits were again colorful and the pink cocktails, too. At this event the guests – artists, dramaturges, producers, curators, etc. – from around the world was given the opportunity to know more about the Danish Cultural Institute's work on international exchanges in the performing arts area, and also to meet representatives from embassies, other contributors and cultural and industry organizations working with an international perspective.
Karen Toftegaard on the reception event: "At the international reception it became clear that CPH STAGE and DCI together reached a higher level in the international work –  in terms of visibility, transnational networking and in the development of opportunities for Danish culture in the international arena."
Text: Mette Gadegaard Olsen
Photos (thumbnail and banner): CPH Stage, Frida Gregersen
If you have any questions, you are welcome to contact us.
Danish Cultural Institute
1463 København K
Tlf: +45 33135448