22 · 11 · 2016
Art can change the city – Bureau Detours at Malta Festival in Poznań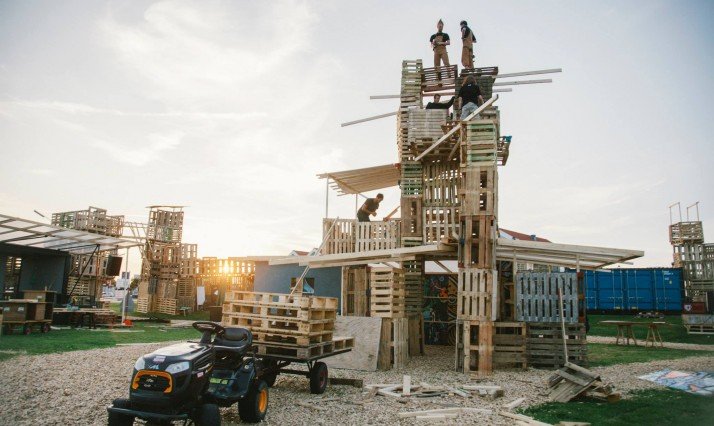 Malta Festival Poznan's Urban Academy is a newly inaugurated two-months course that aims at drawing new perspectives in city planning, and consists of meetings with artists, researchers and animators from Poland and abroad. Stress is put here on mixing creative energy with knowledge in order to make urban space a better place to live in. Obviously, Denmark as one of the trendsetters in this area couldn't be missed. Bureau Detours, an artistic collective that works with art, architecture, design and urban planning,  proposed in Poznań how to think about a city the Danish way.
Benny Henningsen and Matilda Ulvbielke, two members of the Bureau Detours group, met with the participants of the Urban Academy on 19 and 20 November. During the workshop "Life expands from the cracks in the architecture", the participants explored the city and made some small physical changes in it through urban exploration. The task was to find useful "cracks" to make a small project in.
Bureau Detours is an artistic collective active since 2006. It was formed by designers, craftsmen, architects and visual artists who work together on projects involving local communities. The group's aim is to activate citizens and reconnect them with their surroundings. Bureau Detours is based mainly in Denmark (Copenhagen, Aarhus and Kolding) but it also has cells in Norway, France and the Netherlands. With every project in a new city, Bureau Detours aim to create a local department that will provide insight to the city, and will become their future allies.
Malta Festival Poznań is one of the most important art festivals in Central Europe. Dedicated mostly to theatre, film, music and performing arts, it has been taking place in Poznań since 1991. Urban Academy is a natural consequence of Malta Festival's several years' work with urban space within the socio-artistic program Generator Malta.
Danish Cultural Institute in Poland is partner of the project.
The project has been supported by the Danish Ministry of Foreign Affairs, Ministry of Culture and the Agency for Culture and Palaces.
If you have any questions, you are welcome to contact us.
Danish Cultural Institute
Tlf: +45 33135448