Strategic Themes
5 Strategic Themes
Across all our projects in the period from 2013-16, the focus of DCI has been on five strategic themes.:
Arts Education
Children and Youth
Sustainability
Welfare (dialogue and democracy)
Science
Co-creation – as a way of working together on projects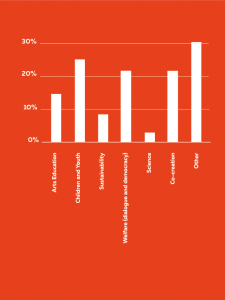 The diagram shows an estimate on, how we covered these 5 strategic themes in 2016. Most of our activities cover though more than a single theme, and the diagram does therefore not provide a total spread of our activities.
In just about 70% of DCI's activities cover cultural projects with a crossover effect on societal issues and has a cross-pollinating effect. The remaining 30% of our activities embrace helping Danish artists to get to act internationally, creative highly qualified artistic co-operations, consulting, lectures, network and media collaboration etc.
If you have any questions, you are welcome to contact us.
Danish Cultural Institute
1463 København K
Tlf: +45 33135448