02 · 10 · 2018
Dziecinada – 6th International Theater Festival for Children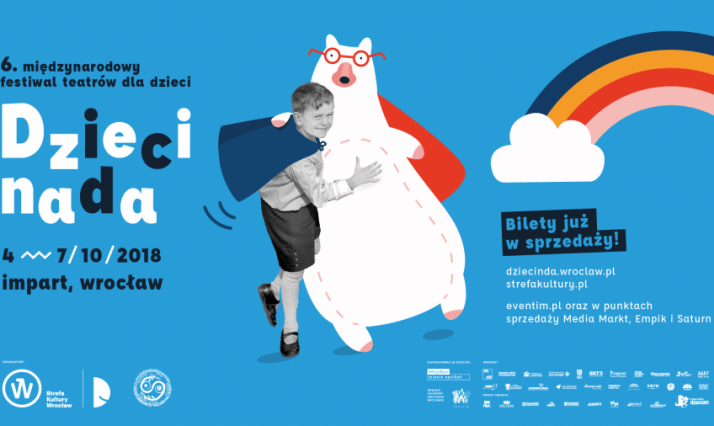 For the sixth time Dziecinada – the International Theater Festival for Children will take place in Wroclaw, Poland from 4th till 7th of October. This year, just as previous ones, the program is full of exciting, diverse activities, not only for kids. One of the main attractions are visits from both Danish and Slovakian renowned theaters – among others: Teater Minsk, Sofie Krog Teater, Teatergruppen Batida and Teater Asterions Hus and Circus Younak.
Dziecinada is a journey around the world including classical, innovative, puppet and circus theatre, open to various age groups. The festival fulfills a very important task – it reaches where the theatre usually does not reach. The unobvious places, away from cultural centers – outdoors, hospice, in a community center. The creators of the festival not only provide entertainment, but also teach and develop, which is why Dziecinada is not only performances, but also workshops, animation and educational games. Kids will be able to engage in activities regarding kites' design, pantomime, art exhibition or international, outdoor games. Moreover, teachers and parents have the possibility of participation with workshops dedicated especially for them ("How to build meaningful relationships" workshop).
For four days, the youngest will be able to participate in numerous performances and accompanying events. It will be special on October 6th, when four theatres from Denmark take over the scene:
Teater Minsk: "Heaven" [1.5-5 years old], at 10:30 and 16:00
Two dancers take the youngest viewers into a real sky-high journey. They make everything spin around, and soft clouds and planes are (literally) at your fingertips. Body language is able to recall a delicate, whispering wind, but also an ominous silence before the storm. The whole is decorated with romantic music and delicate stage design.
Sofie Krog Teater: "Diva" [10+], at 11:00 and 17:30
In the depths of a dark and unusual cabaret, the paths of the life of a beautiful diva, a broken-hearted butler, a malicious laboratory assistant and a mad scientist are crossed. Spectators, watching the heroes experiencing an unfortunate night, which may be their last, are drawn into a whirl of secrets hidden by the walls of the cabaret. "Diva" is a unique example of dexterity and demonstration of the skills of a talented puppeteer Sofie Krog, who directs the entire action on many stages from the center of a small, rotating theatre.
Teater Asterions Hus: "Romeo & Juliet!",  at 13:00
Shakespeare and the biggest love story in history conveyed by Asterions Hus, who created a moving, fast and playful spectacle. 24 scenes, 24 hugs, 24 changes of direction and 24 celebrations of love – its many faces and endings. The fantastic text of Shakespeare, thanks to the actors, turns into a dance of worms, sumo wrestlers and ballet in wheelbarrows. Never before has anyone played dead in such a vivid way!
Teatergruppen Batida: "Solo for two" [5+], at 11:00 and 17:00
The conductor waits impatiently, while every member of The Sweet Seven Magic Orchestra calls with information that he/she will not manage to play at the concert. At first, desperate, he decides to make good use of this situation. He will play – secretly composed – a solo trumpet concert that will surely make him famous. When he is ready to start, one member of the band unexpectedly appears – the least talented and worst performing musician who thinks only about football. This can only end with a catastrophe … and it ends. However, it turns out that these two musicians have more in common than they think.
Festival's focus according to director of Culture Zone Wroclaw – Krzysztof Maj is openness, culture inclusiveness, and affordable prices.
For more information and a detailed program of the event, please visit the festival's website: LINK
Dziecinada – 6th International Theatre Festival for Children
Organizers: Wroclaw Culture Zone, Foundation for the Support of Alternative and Ecological Cultures
Where: Impart (Mazowiecka 17), Cultural Center with the Scene "Teatr Na Bruku" (Pszczelarska 7), Górka Skarbowców (Racławicka 50), Barbara (Świdnicka 8b), Prose (passage Garncarski 2), Fotoplastykon (Koreańska 1) in Wroclaw
When: 4-7/10/2018.
The Danish Cultural Institute and Danish Arts Foundation are the project's partners.
If you have any questions, you are welcome to contact us.
Danish Cultural Institute
1463 København K
Tlf: +45 33135448