Literature can be opening new windows and perspectives – I think about it more now" the acclaimed Turkish novelist Latife Tekin says at the end of our conversation. "But it also depends on your understanding – how you listen to us. It takes some time and real meetings – real confrontations. We need to really open from both sides. I believe, we can understand each other's countries just by listening to the poets and the literature. Therefore it is important to have these cultural meetings."
In November 2016 Latife Tekin and the poet and columnist Onur Behramoğlu visited Denmark on invitation by Danish Author's Society in collaboration with LitNet Odense. The work of Tekin has been translated into many languages, though not Danish, and she is one of the most influential female authors in Turkey. Also known as founder of Gümüşlük Academya in Bodrum – an independent "garden" for artists. The younger Onur Behramoğlu is regarded as a new original voice in modern Turkish poetry. We met the two Turkish authors at the Danish Author's Society in Copenhagen.
New Turkish Literature
We asked Tekin and Behramoğlu to tell a bit about themselves to readers, that doesn't know them so well.
Latife Tekin (1957) started to write at a young age. She published her first novel Dear Shameless Death during the military coup in Turkey in the 1980ies. In her early novels Tekin writes about poor people, who migrate from rural areas to cities, and how they try to survive in this turmoil of transformation.
"My generation has been involved in politics from a very young age." Tekin tells. "I wrote a novel (Dear Shameless Death, 1983) – a story about a young woman (more or less herself, her colleague Behramoğlu friendly remarks). That novel was also a protest against the political movements at that time. Because I was inside this, and I experienced that the women and the young people loose their language in this. When the "big bosses" take over, it turns into a too over hierarchical a language."
In her novels Tekin uses an Anatolian narrative culture and creates a new style – her own kind of magic realism. Her style is more like poetry, as she tries to tell the story of the poor using their own language.
"Poverty and being poor is not just a metaphor of a class relation, but also a matter of migration. Today South is poor, and North is rich, East is poor and West is rich. People are moving north and west. It is not just a class issue, it is also happening in the country. I am thinking, let's try to move deep inside their hearts and feel, what they think and feel. Being poor means always being humiliated and degraded. It is the condition of poor people and women, that they loose their voices in a manly world." Tekin says.
The author was born and raised in the village of Karacafenk in Central Turkey, which she tells is full of poor people. There she experienced how poor people were humiliated, and how the propaganda machine was applied on them. "I experienced it, because I was part of them. The propaganda said that being poor is bad. Being rich is good, poor is bad. It is like saying women is secondary, or young people is secondary coming face to face to elder people."
"Everything changes if we, instead of thinking of poor people like the politicians do, try to think of tem as literary people – like poets."
Over the years Tekin's focus has evolved from degraded people, and recent themes in her books are love; searching for the meaning of life; finding Utopia or the mechanism of becoming old and forgetting (in The Garden of Forgetting, 2013).
Another central issue in her books is womanhood. "In all my novels, you find the clash of relations between mothers and daughters. A female character is always there. Because there are so many women trying to become more free. Trying to get freedom from their families, from their mothers, from their fathers, later from their men, from the society." Tekin tells.
"My new book is written from the view of the 10.000 year old soul living in a old woman. When the woman dies, the 10.000 years old soul is reborn in another woman, or you can think, that the soul kills the other soul and takes over the body. She actually wants to be born again in the body of a dancer from Samarkand."
"The main idea was to write about the adventure of being a female starting from Antiquity until now. She is a protesting soul of a female. Like a witch full of wisdom.
The book has been called the first queer novel in Turkey."
"... poetry is a source of innocence full of revolutionary forces."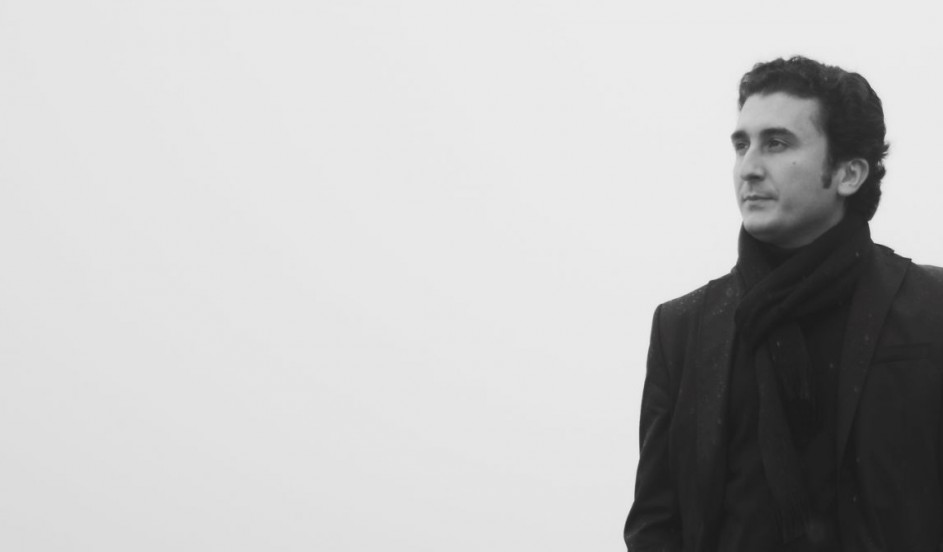 Onur Behramoğlu's first poetry collection Asit ya da İksir (Acid or Elixir) came out in 2006.
Poetry is a rebellion
Onur Behramoğlu (b. 1975) comes from a different family background, born in Istanbul, where his father worked as a lawyer. His family experienced radical changes and pressure during the fascist military coup in 1980, which set their deep traces in the poet as a small kid.
After the assassination of a Turkish left-wing prosecutor, Behramoğlu's father decided to be a prosecutor. Because of his leftist political views the military council designed him to the Eastern region of Turkey and made it impossible for him to work as a prosecutor. In the end he had to resign and went back to work as a lawyer. At the same time Behramoğlu's two uncles (the poets Ataol Behramoğlu and Nihat Behram) had to flee to exile because of their leftist views.
With two prominent writers already in the family becoming a poet was not an easy way to go. After high school Onur Behramoğlu studied political science and didn't start to write, until he was 28 years old. His first collection Asit ya da İksir (Acid or Elixir) came out in 2006.
Behramoğlu is highly acknowledged for his unique way of using poetry together with film and music. His poems, which have been translated to several languages, are characterized by having an integral structure, that resembles the forms of musical compositions, full of different themes and interrelations.
He gives workshops on combining literature-poetry-music and cinema and takes part in international poetry festivals in Turkey and abroad. In 2014 Behramoğlu was curator at Berlin International Poetry Festival. Besides being an author he writes for a daily socialist newspaper in Istanbul.
For Behramoğlu poetry is a source of innocence full of revolutionary forces. This is in his mind not the same with literature. He believes that literature easily turn to be a career race of greedy writers and many so-called poets, trapped within the limits of capitalist perception. Therefore he does not apply for any literary awards.
He sees himself as part of an enlightenment against the Islamic right wing people. Through poetry and film Behramoğlu tries to understand the conditions in Turkey and make people think … and think again, as he says.
"Everything you write comes from your personal wounds and you try to heal yourself."
For him it is childhood experiences of his family under pressure and his two uncles being sometimes in prison, sometimes in exile, that are posted in his memories.
Only two weeks before travelling to Denmark Onur Behramoğlu himself was asked to come to court to explain a sentence in one of his articles. His son at 7 got quite nervous about this and asked his father, what did he write, that was so bad, that he had to go to court. After reading the sentence, his son's reaction was "And so what?"
"I asked the same question in court. It is a matter of power. They have the power. They send you a letter, like a warning – you have to be careful." Behramoğlu says.
Being a political poet and a writer for a left leaning magazine is not an easy way of living, but for Behramoğlu writing is like a seal to his heart. It cannot be different.
"Poetry addresses to the wounds. In poems you just imply, you never address it directly. You use images, create metaphors and it makes everything clearer. Because meaning is lost in everyday life. Thinking with metaphors enable us to rethink (or start to think for the first time!). Meaning is lost, because words are used just for buying and selling, just for the survival of capitalist survival. Poetry gives the words the chance of rebirth.
Writing poetry is regarded as something easy, but it is the hardest and deepest way of expressing thoughts and emotions. Writing novels is so hard – for a poet – because words have to be used in their daily meanings in novels, but poets tend to avoid daily meanings and try to escalate to upper levels of conscience. Writing a really new novel, that stimulates a deeper way of understanding our lives, is hard.
It is difficult to understand Tekin's novels. In this way you can be critical and not many understands it. Writing articles and poetry – is being on the spot."
Izmir Book Fair is one of Turkey's biggest book fairs.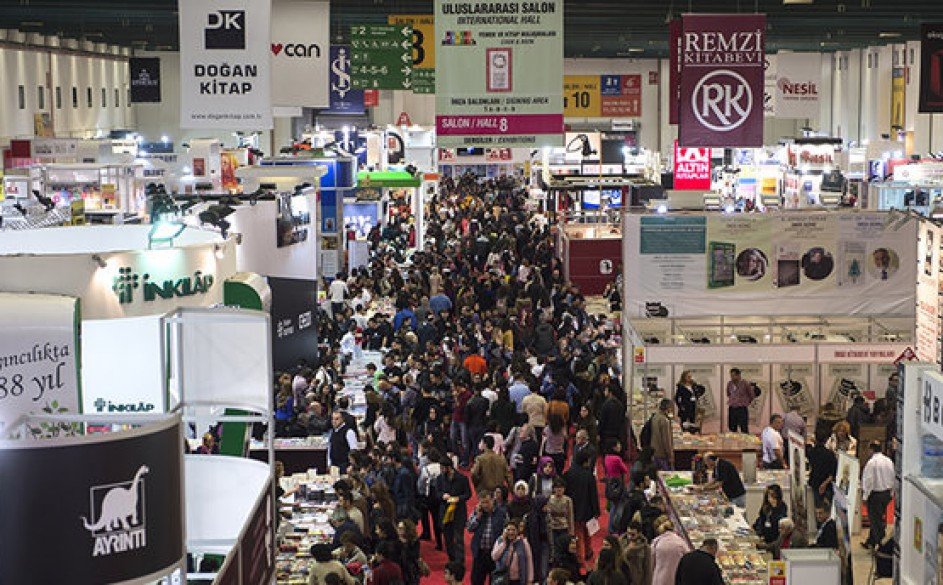 The power of literature in the society
Tekin have a feeling, that young people in Turkey don't know so much about literature.
"I am very interested in young people. When I was young, we always talked about literature, also from other countries. You need to be curious. But maybe the focus of the young generations has moved on to movies and visual arts."
"Most publishing houses today are focusing on finding bestsellers by beautiful young writers, that will sell. Most of them are focusing on popular literature. Only a few are focusing on classical literature. The book seems to have turned to be a prestigious object. A part of your identity. You pay for it, you buy the book. To show. When (Karl Ove red.) Knausgaard was translated to Turkish, the young female readers talked about how cute he is. His face on the cover." Tekin says.
Tekin believes, that the serious literary journals are in Europe, but a new kind of literary magazines has however aroused in Turkey. Magazines that are being bought by younger generations and are written in their language – in a combinations of tweets and more. Tekin feels, these magazines are degrading the literature and refuses to write in them. But she does acknowledge, that they bring new readers of literature.
The very young generation of Turkish writers spread their work on the social medias in small literary communities. Earlier these communities were mainly Istanbul based. But through the social medias these communities have spread all over Turkey.
Freedom is related to being wild
"Actually no," Tekin replies at the question of whether they are feeling free to express themselves. "But I feel the same for all the artists all over the world. If you really have a wild energy in your heart, someone will make it hard for you. I feel that being an artist – you can not be censored. The artist is an unidentified object in the society – it takes time for the society to find out …"
"For me freedom and freedom of speech are totally separate. It doesn't relate to legal rights or anything. For me freedom is here and is related to being wild and not being part of the society. My definition of freedom is not so social. Maybe it is because I see the world through the eyes of females and the poor. To be free you have to work so hard, and be true to your wild nature."
Latife Tekin
"Young people have an uncontrolled energy and this can be frightening. It is unstoppable although there is a government trying to stop all this. I have so much hope because of this energy."
"Last week there was an exhibition of visual arts in Istanbul. 60% of the pieces were sold. Turkey is such a weird country. You find thousands are going to art exhibitions and buying the pieces. Then here is a book fair – thousands people are going, arts exhibitions – hundreds of people. It makes your heart filled by hope. But then you go to the elections …"
You feel the cultural turmoil more in Turkey
Turkey has an exceptional position, because it is born both eastern and western.
Turkey is a mixture of traditional and modern values, as all other societies, and the traditions in the society have many different roots. It would be a cliché saying the society is divided in two parts – left / right or modern / traditional.
Behramoğlu explains: "I have many readers putting on scarfs and they read the socialist 'Birgün' newspaper, where I write. They make a row in front of me at the book fairs to get my signature."
"50-60% of the Turkish voters generally vote for right wing political parties, and 30-40% vote for left wing. This is the tendency in Turkish politics. But sociologically, there are many more divisions and differences. Someone voting for left may have strong religious beliefs while a secular liberal man may vote for right wing just for his own economic interests by claiming, that he is voting in favour of stability."
"There is so much turmoil in the world, but I believe, it will become better, if we get closer to each other. People from different religions marrying each other." Tekin says. "It is not just a turmoil in Turkey. Europe changes. You feel it more in Turkey, because it is a crossroad between cultures."
Behramoğlu adds: "But it is not only cultural, but also a political-economic issue. Turkey is the hot spot of imperialist power struggle. Turkey is at a strategical position on the world map close to petroleum-natural gas areas, where many rival sects of Islam and many cruel terrorist organizations fight for power (with or against big powers like USA, Russia, Britain …)"
"Some politicians like to talk about a third world war. And maybe inside people, there is a tendency towards fighting and being blown up. We can't say, that these days are the best days of our lives," Tekin says. "I always believe, our own attitudes have influence on politics. The traditional culture and the modern culture must meet and find a way. I wish and I hope that it will. Hopefully we will reach a time, where we can live without this fear …"
Danish Authors Society's international committee focus on Turkish literature 2016-17
As a country at the crossroads of Europe and Asia, Turkey is enriched by an exciting cultural life. New Turkish literature is however not particularly known or read in Denmark. Therefore the Danish Authors Society's international committee in 2016 and 2017 has a special focus on Turkey.
Danish Cultural Institute plans to open a branch in Turkey
Despite terror and bombs daily life continues in Turkey. People are dreaming of their futures and of touching new worlds, just like other places. During the last couple of years Danish Cultural Institute has cooperated with cultural institutions and partners in Turkey on smaller projects on literature and performance arts. DCI hopes to establish a branch in Istanbul in order to continue the dialogue and cultural exchange for mutual inspiration.